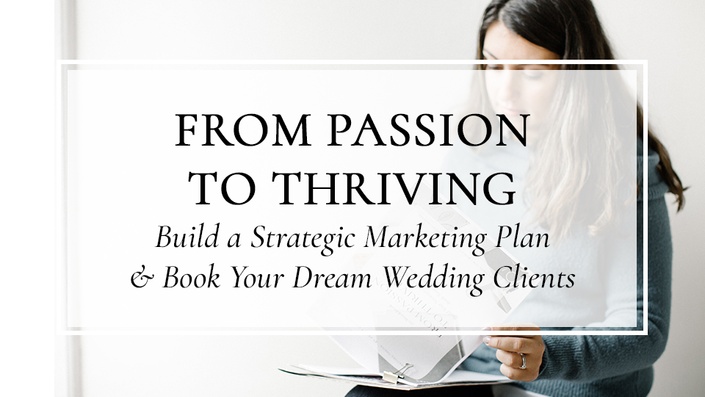 From Passion to Thriving
Build a Strategic Marketing Plan & Book Your Dream Wedding Clients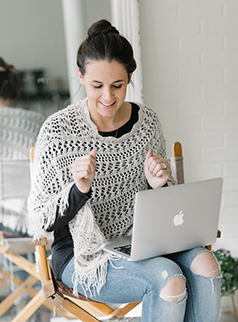 Welcome to my marketing course for wedding creatives! I'm Ashley Largesse, the business coach behind Creatives Thrive. I'm a creative at heart who's obsessed with business building and marketing strategy.
I've designed my From Passion to Thriving course to help creatives just like you—passionate, driven individuals who feel lost in the entrepreneurial weeds. This course is about making that cluttered, confusing, and overwhelming path of yours a whole lot clearer. It's about providing you with the direction and tools you need to work efficiently and start marketing your business in a way that will actually bring you the wedding inquiries that you long for.
You may have thought to yourself. . .

How am I going to reach my ideal client? Where do I even begin? I feel stuck in a rut and completely overwhelmed. I don't know if I can do this. Why am I not getting any inquiries? I am ashamed of my portfolio and feel that my work doesn't speak to the direction I want my business to go in. I'll never reach my full potential. I need help!

I will teach you my step-by-step process to creating a multifaceted marketing plan that confronts the channels most valuable to the promotion of your business. With the use of theWorkbook, my signature marketing guide, you'll iron out a detailed roadmap and be ready to spring into action right away. You'll design a strategic approach to market that will allow you to diversify your services, stand out in the crowd, and make strides in your business.

Not only will you design your strategic marketing plan, but I'll walk you through the process of creating a customized schedule that will hold you accountable and maximize your productivity.

Diversify your services. Stand out in the crowd. Make strides in your business.
You were meant for this.
That voice deep down telling you not to give up—hold onto it tightly. That voice is your heart, and it knows you best. It knows that you were meant for this. It is your constant reminder that you are in the right place.
Imagine what your life would be like if you were running a successful creative wedding business that provides you with the freedom to run your own schedule and the opportunity to reach your potential. Think about what it would be like to work with clients who have personalities you align with, the style you adore, and the budget to pay you what you know you deserve. This beautiful vision that feels so out of reach, well, it's much closer than you think. Much, much closer.

What if . . .
You knew exactly what you needed to do in order to reach your ideal client and start booking the kind of business you've dreamed about.



You no longer sat in self-doubt, but you instead started each new day with more confidence and excitement than the one before.


You opened your bank account to a growing number that can better support you and your family's future.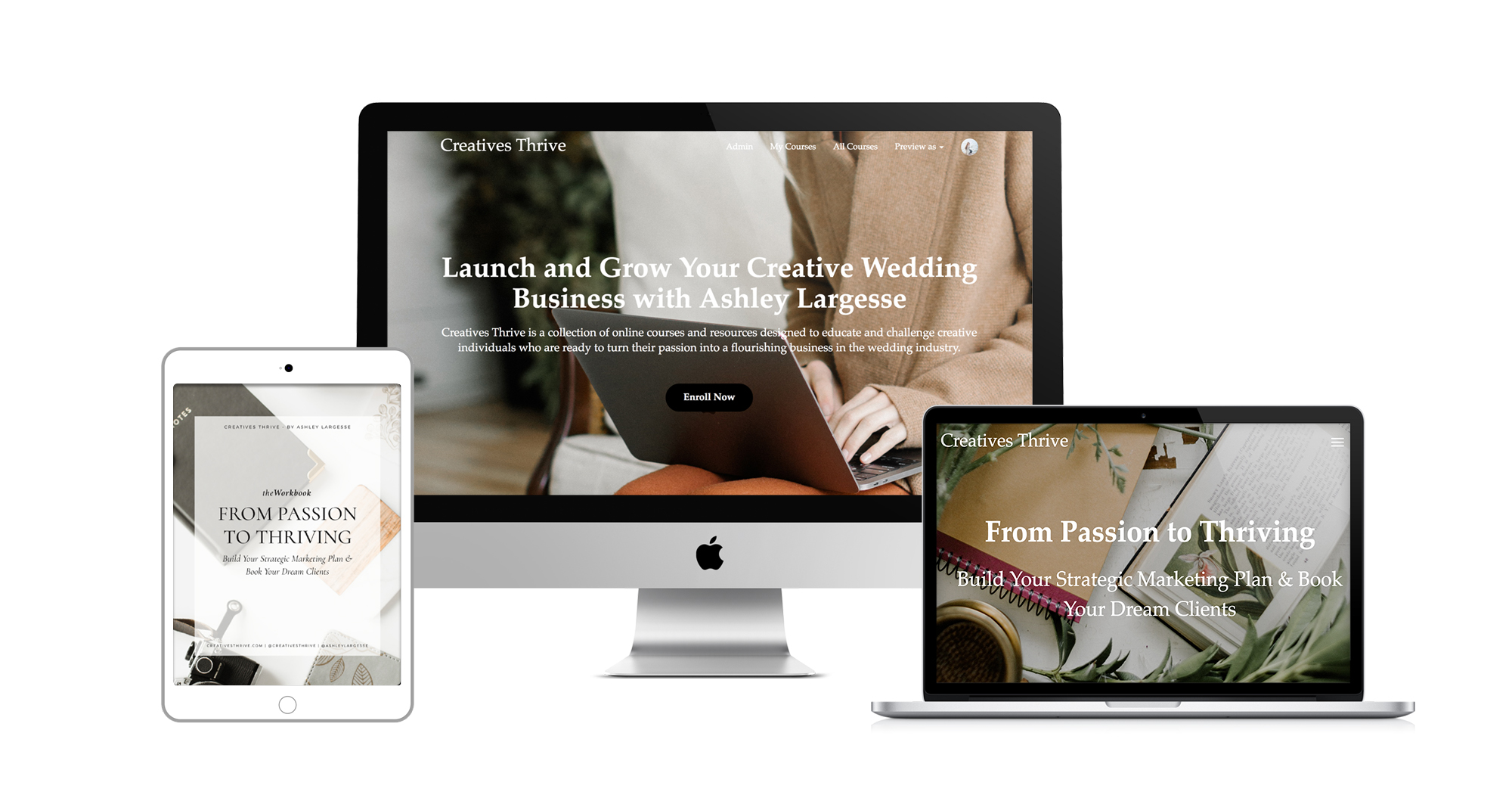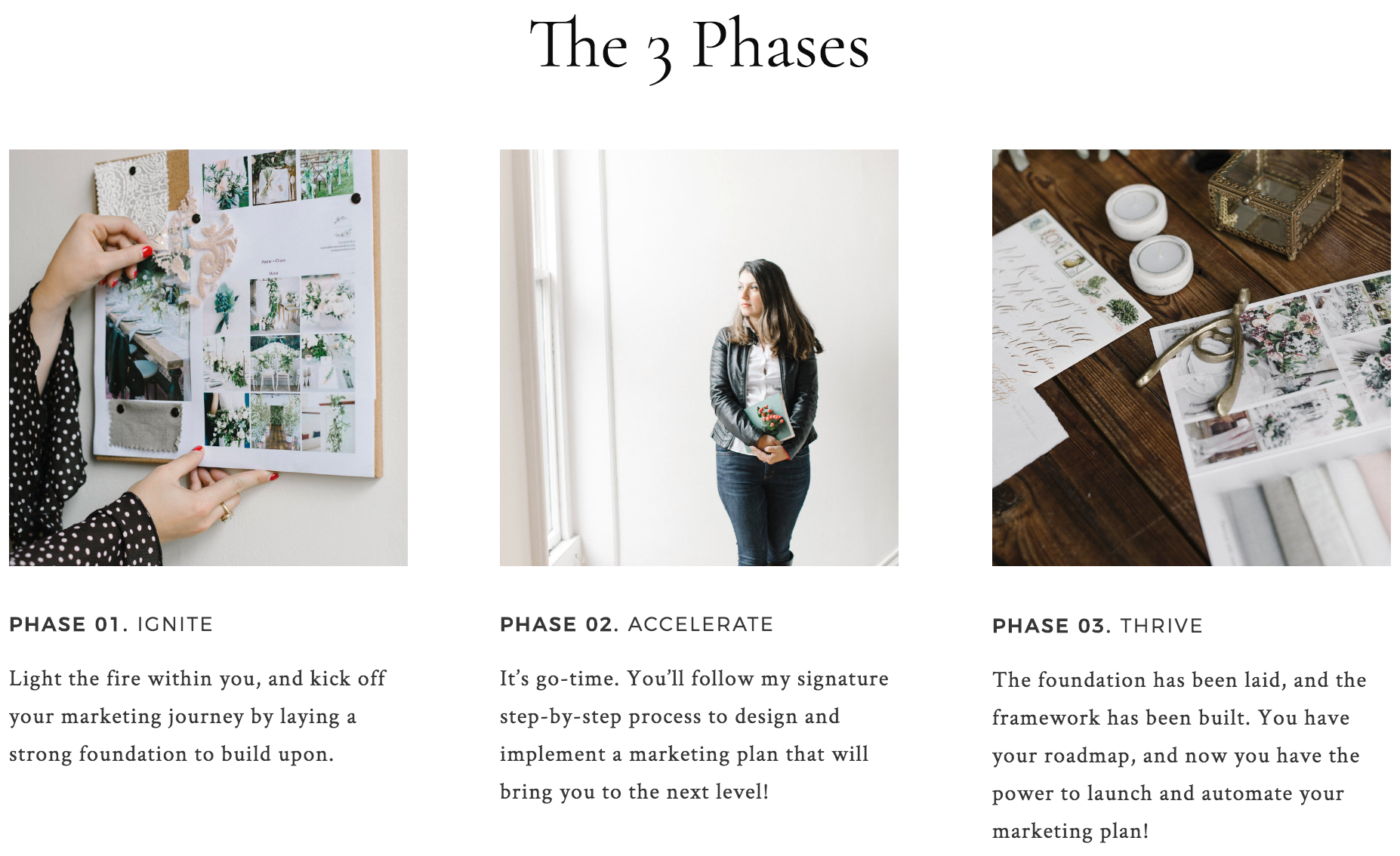 What's stopping you?

"I don't feel like my brand is strong enough for me to focus on marketing. I'm nervous that I'll be in over my head."
An incomplete or "imperfect" brand is actually a great place to start. Why? Because as you work through this course, you'll discover ways to strengthen your brand and evolve it into a more powerful piece of your business.
"I have a limited amount of time to dedicate to this course between my personal life and second job. I'm afraid I'll just waste money on something I'll never finish."
This course was designed to fit your individual pace. There's no rush, no time crunch, and no deadlines. Complete each lesson when the time is right for you!
"I worry that I don't have the portfolio I want to use when marketing my work."
We'll be covering solutions to this problem within the course. The strategies you'll learn will offer that extra nudge you need to step outside your comfort zone and capture your potential!
TOPICS COVERED:

Tapping into your marketing mindset
Strategizing for social media
Comfortable in-person marketing methods
An impactful approach to blogging
Email marketing with a purpose
Organization and scheduling like a boss
Defining and perfecting your message
Positioning your business in a place of power
Connecting with your ideal client
Automating your workflow
Maximizing minimal time for marketing efforts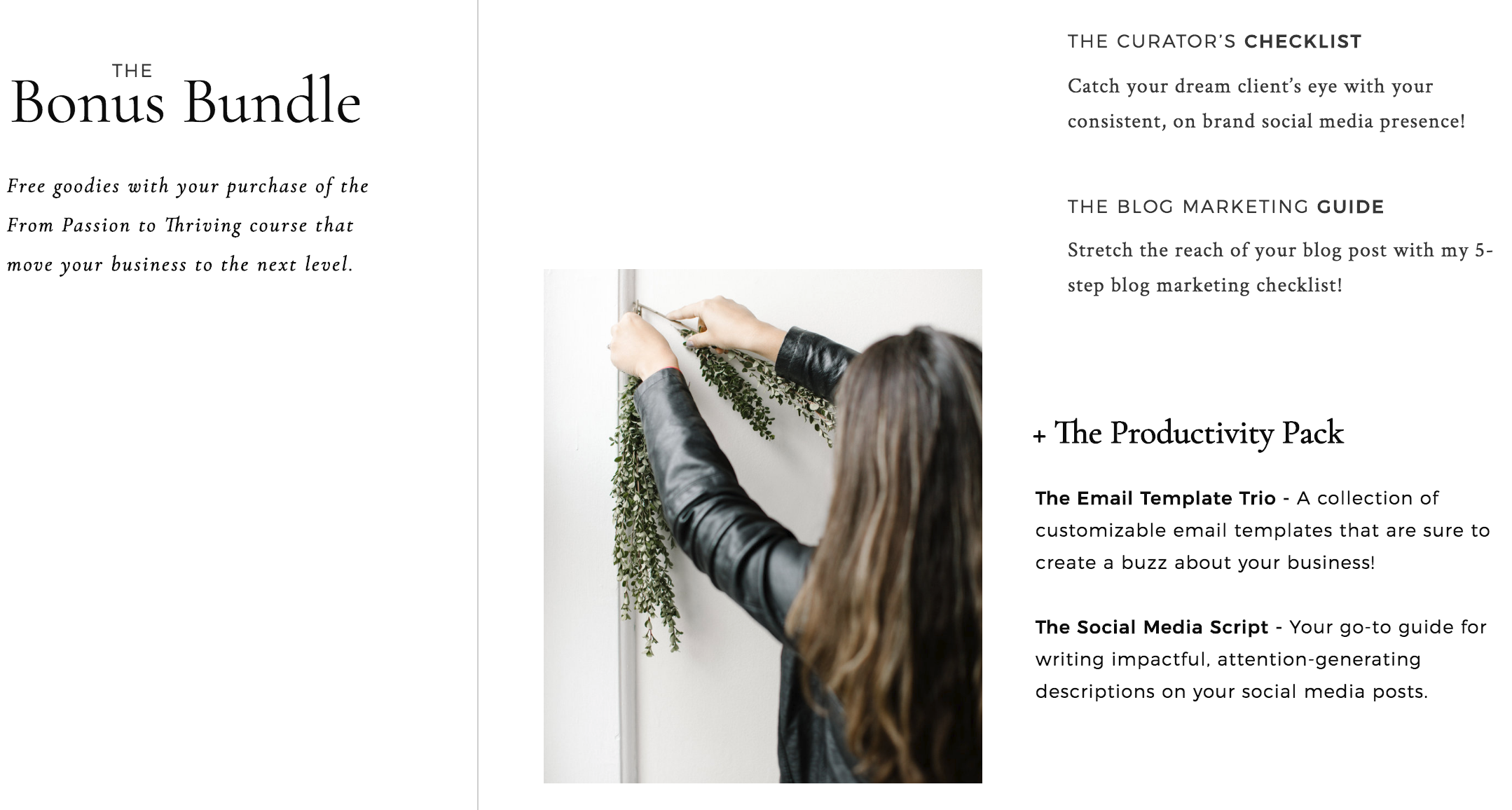 + theWorkbook

This is not one of those courses that offloads gallons of information into your world and then leaves you alone to "figure it out." Instead, you'll gain access to theWorkbook, a printable document that provides key marketing exercises and valuable note-taking space for each lesson. Once you've completed the course, you'll be able to easily refer back to your hard work and start executing your clear and customized action plan!
Frequently Asked Questions

ABOUT HOW LONG DOES THIS COURSE TAKE TO COMPLETE?

The completion of this course is entirely dependent on your individual pace and the time you have available to commit to each lesson. On average, this course takes students about 2-4 weeks to complete. However, this course is about creating a long-term impact on the success of your business. So, if you want to take your time and complete the content in a matter of months, that's perfectly fine too!

WHAT DO I NEED TO PREPARE BEFORE STARTING THIS ONLINE COURSE?

Prepare your attitude. Seriously, that's it. You will find great success with this course if you go into it with an open, positive mindset and willingness to learn and grow. It's okay if not all of the elements of your business are in order beforehand. We are constantly evolving and redefining our paths. This course will not only help you create a strategic plan to market, but it will also encourage you to finalize other areas of your business along the way.

HOW WILL I ACCESS THE WORKSHEETS AND OTHER RESOURCES INCLUDED IN THIS COURSE?

Worksheets, guides, and other resources have been compiled into the From Passion to Thriving workbook (theWorkbook), a downloadable PDF document that acts as your step-by-step guide throughout the completion of this course. The workbook keeps everything organized for you and also makes life a bit easier when you need to refer back in the future.

WHAT IF I'M NOT IN THE WEDDING INDUSTRY. IS THIS COURSE STILL APPLICABLE TO MY BUSINESS?

Some of the terminology as well as the real-life examples shared throughout this course are specific to the wedding industry. However, the marketing strategies and overall mindset that is taught throughout the course is absolutely valuable to creatives in other industries who are seeking help with the launch and growth of their businesses.

DOES THIS COURSE DIVE INTO MARKETING STRATEGIES FOR SOCIAL MEDIA?

Of course! Social media is currently exploding with marketing opportunities, especially for creative entrepreneurs. Platforms like Instagram and Facebook have evolved from family and friend communities, to places where businesses can create stronger connections with their audience and experience exponential growth alongside strategic marketing efforts. This course prepares you to engage those platforms in the best possible way for your business.